by
Your ideal coworker probably isn't covered in fur. They don't have terrible breath, untamed toenails and zero respect for your personal space, and they certainly don't greet you with a below-the-belt sniff instead of a handshake.
For many, man's best friend doesn't equal man's best coworker; but here at Pressboard, we've happily let our Vancouver, Toronto and New York offices go to the dogs.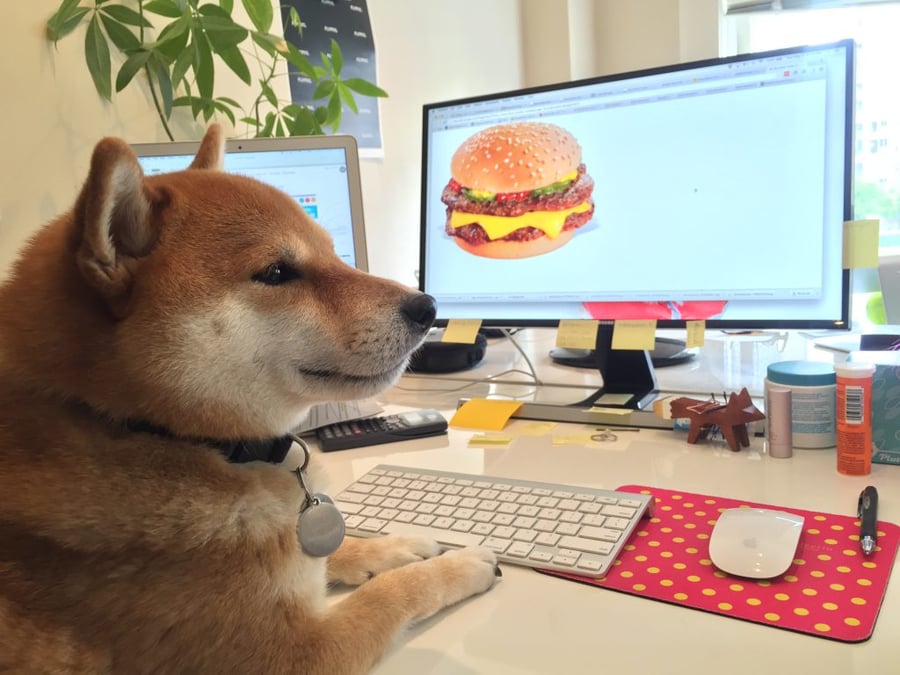 Biru, a Shiba Inu, developing the latest in burger marketing strategy. (Owner: Dragana Milisic, Pressboard's Digital Media Buyer)
It's becoming more and more common, especially in larger cities, to see people commuting to work with a briefcase in one hand and a leash in the other. Or, in the case of Lenny Ford, Pressboard's Full Stack Developer, commuting on a bike complete with a chariot so the pup can ride in style.
Despite their recent upswing in popularity, however, dog-friendly offices aren't as prevalent as you might think. In fact, according to the Society for Human Resource Management's 2018 Employee Benefits survey, just 9% of American workplaces allow pets — despite the fact that over 89 million domestic dogs call the country home.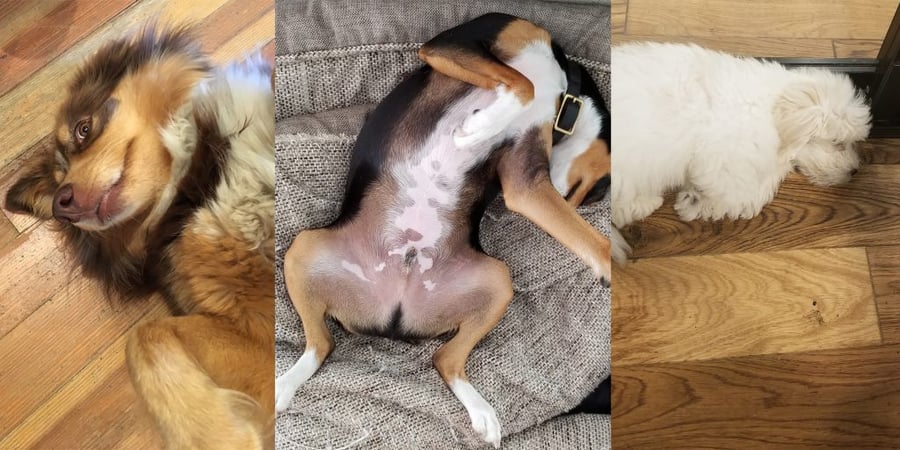 Frequent naps are just one of the many health benefits offered to Pressboard's full-time canine employees. (Left to right: Sadie, Timba, Willow)
At Pressboard, we believe that opening the office door to dogs can add a unique element to workplace culture, boosting everything from productivity to social interactions. After all, research shows that working in a pet-friendly space can reduce stress (and even blood pressure) in employees.
We're content to work in the midst of jingling tags, padding paws and the occasional scuffle with the mailman. The usual suspects in our offices range from roly-poly French Bulldogs to rambunctious Rat Terriers. The ratio of pups to people is nearly 1:2 — which is both a source of delight and, at times, complete chaos.
"When Gary [a Toy Poodle] was around 10 weeks old, I brought him into the office for the first time," said Hilary Bryce, Account Executive, "and he promptly 'showed some love' to Jerrid's shoe and peed on the floor in front of Tiam. Good times."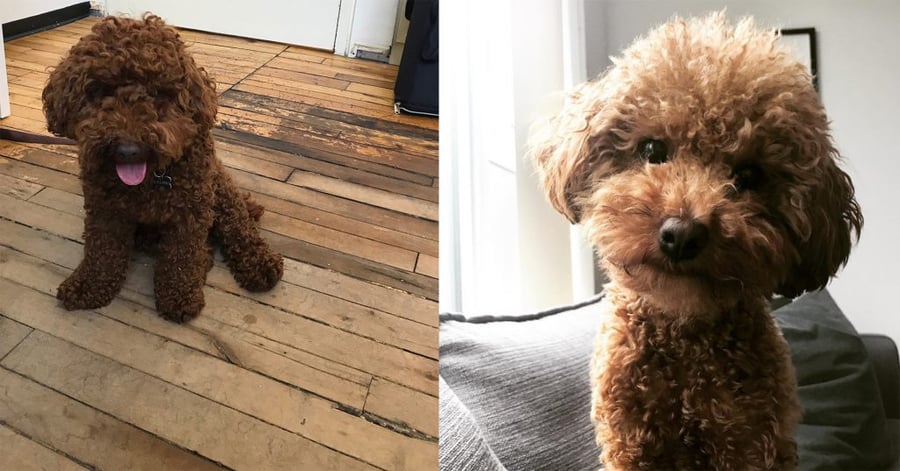 Pressboard's Poodle Division is in charge of crunching the numbers on Active Walking Time. (Left to right: Gary, Alfie)
"There have been times when Sadie [an Australian Shepherd] has rudely greeted a postal worker or decided Neil's leg was her new best friend," said Dave Richards, Data Science and Machine Learning Specialist, before adding, "neither of which are ban-able offences in my book."
Despite their lack of social graces, Pressboard's dogs undeniably bring something special to the table — especially in terms of employee benefits. When asked what their favorite part of bringing their dog to work is, our employees rattled off everything from peace of mind, to an excuse to get outside during the workday, to money saved on "doggy daycare" and dog walking services.
For Jay Khandke, Manager of Publisher Partnerships and owner of Sirius, a Cavachon, the real treat is as simple as "seeing people's faces light up when they see my dog — or anyone else's dog, for that matter."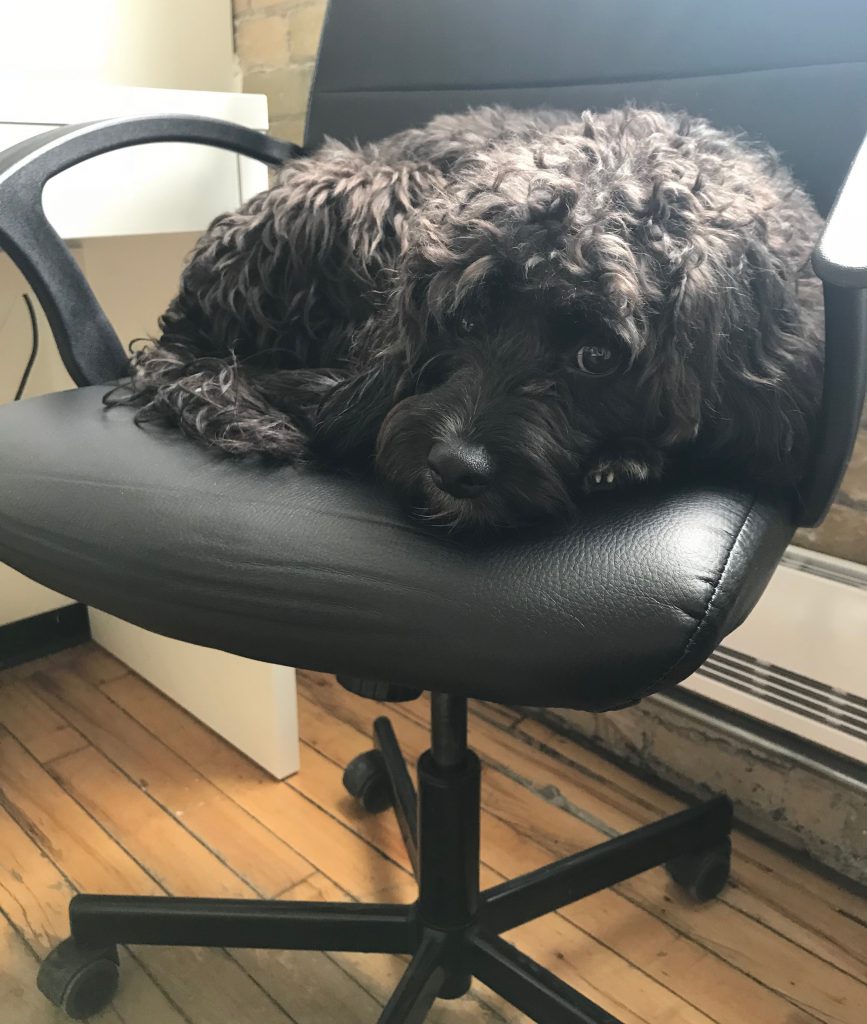 Sirius manning the helm at Pressboard's Toronto office.
Though some may see working alongside pets as a dream come true, many others see it as distracting, irritating or even frightening.
"If the workplace is in agreement about the dog policy, everyone is happy; but an unruly pup, bad allergies or increased levels of distraction can hurt surrounding employees' focus and potentially build workplace animosity," said Erica Cosgrove, Manager of US Partnerships and owner of Willow, a Coton de Tulear.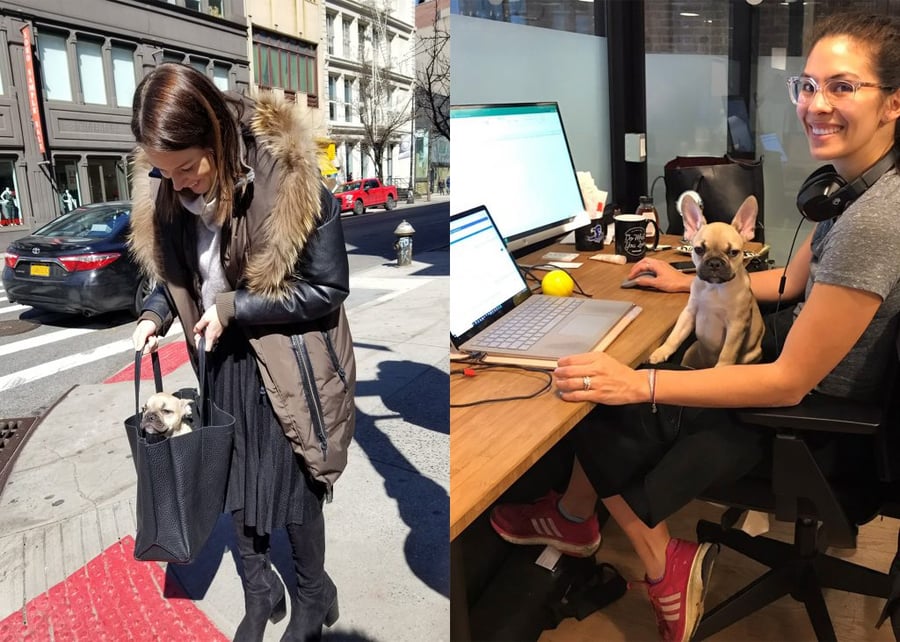 Barley, a French Bulldog puppy, offers groundbreaking insights on how to market handbags and laps. (Left to right: Trisha Stefani, Erica Cosgrove)
It's important to remember that implementing a dog-friendly policy in the workplace requires careful consideration. As stated in a recent study published in the International Journal of Environmental Research and Public Health, workplaces wishing to create a dog-friendly space should first consider "the health, safety and well-being of employees, legal and cultural sensitivities, and animal welfare."
The decision to allow dogs into the office isn't always a walk in the park. Before taking the plunge into pooch-friendly territory, ensure that all employees agree with the policy and that all pet owners are willing to take responsibility for their furry friends' less-than-cute behavior. When everyone is on board, however, a pet-friendly office can be an incredibly rewarding and energizing place to work. It's certainly a great fit for Pressboard's employees — on two legs and four.