by
This report was compiled using data from Pressboard Studio between Jan 1 and Dec 31, 2020.
At Pressboard we kept hearing the same question coming up from publishers and marketers trying to evaluate their content performance;
"What does good look like in branded content?"
It's time we found an answer. Pressboard's proprietary content analytics technology is trusted by the world's most influential publishers and provides deep insights that aren't available anywhere else. We've used that technology to analyze over 5,300 pieces of branded content from 238 publications, read by more than 58 Million people and we've compiled the results for you in this benchmark report.
The report looks at changes in activity throughout the year, benchmark averages for web content, social media and ads and even a look at the most creative campaigns of the year.
Want to compare your own content to the industry? Get a demo of Pressboard Studio and see if your stories measure up. Book a 30 Minute Demo right now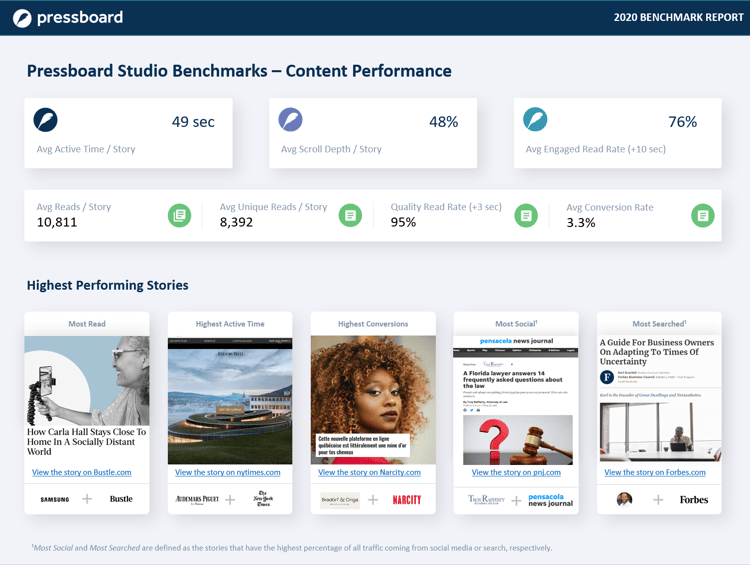 Download the full report:
Pressboard Studio is the industry leading analytics and reporting system for publishers. Our technology is trusted by the world's top media companies and advertisers and analyzes thousands of stories and millions of branded content views each month. Our team's belief in the power of a well-crafted story is what motivated us in the first place to build a platform that makes it easier to create and measure branded content. We've worked with over 350 digital publishers across the world, providing us, and now you, with a growing database of information on how branded content performs.
For more information on Pressboard Studio please contact us