by
According to philosopher and entrepreneur Jim Rohn, "Success is 20% skills and 80% strategy. You might know how to succeed, but more importantly, what's your plan to succeed?"
When preparing your next great branded content campaign, it's easy to return to the tried-and-true partners you've worked with for years. However, the ecosystem of digital media properties is constantly changing, meaning the options you've overlooked in the past may turn out to be your most successful avenues moving forward.
When contacting publishers and media groups to pitch on your projects, the list can often grow to 50, 100, even 200 potential partners. Making sure that the proposals you receive are coming from the most qualified partners will save you time (and likely money) in the long run.
To help you find the perfect digital publications, we've rounded up the research tools our clients use time and time again when planning campaigns. These resources provide rich audience data, content examples, campaign prediction technology and site comparisons, among other information that will help you plan your path to success.
Looking to better understand digital market share across potential partners? SimilarWeb lets you analyse any website or app to determine a publication's strength and reach. Other features include a category analysis, which provides simple comparisons of companies' performance; search keyword analysis to see which sites own different categories; and popular pages, which shows a site's most visited pages to help you better understand their audience habits.
Comscore was founded with the mission to "solve the most complex challenges in the media ecosystem," one of which is building successful media plans. The technology provides rich marketing data and analytics to advertising agencies. Once you've selected your partners, you can even predict campaign success by simulating effective reach and demographic targeting, as well as CPM rates, impressions and frequency caps, to assess how small changes will impact your bottom line.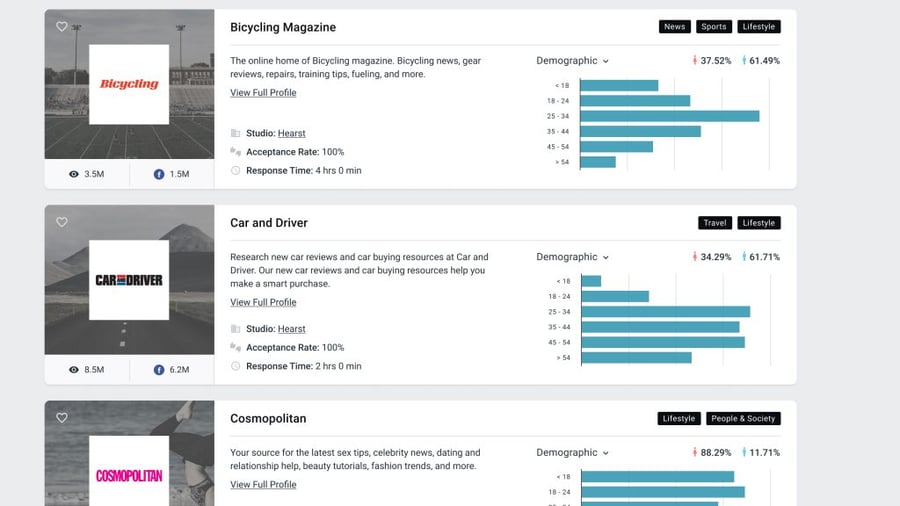 The Pressboard Marketplace is a one-stop-shop for advertisers seeking branded content placements with top publishers. It gives users a comprehensive overview of a publisher's strengths by displaying information such as traffic rank and sources, audience data, monthly site visits and the latest branded content examples published using Pressboard's technology. The Marketplace also includes an RFP tool that lets you contact publishers for a quote at the click of a button — no more hunting through media kits required.
Quantcast goes beyond the traffic estimates efforts made by the likes of SimilarWeb by displaying in-depth data on the exact type of visitors a site receives. Use Quantcast Measure to view analytics on thousands of websites and apps to learn more about their audiences, strengths and weaknesses. The only catch is that the website also needs to use Quantcast Measure to be available, but you'll still be able to look up a majority of premium digital publishers using the tool.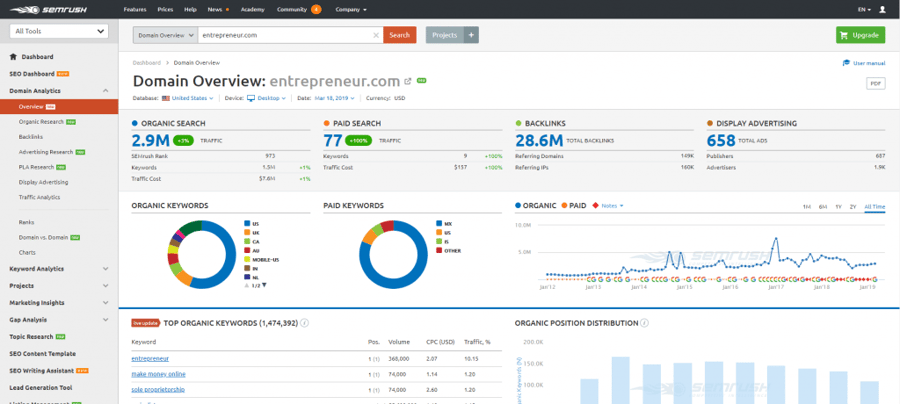 This research tool is flush with features to give you a complete picture of a potential partner and how they stack up against their competitors. In addition to traffic share and ranking, view reports such as Display Advertising (to see what ads are commonly found on their site), Branded vs. Non-Branded traffic share, and Domain vs. Domain (to compare similar publications). You can also use it to track keywords and campaigns to stay on top of any changes in the landscape.
Alexa, what properties should I include on my media plan? Ok, it doesn't work quite as easy as that, but Alexa by Amazon contains many tools that advertisers will find useful when planning campaigns. The Competitive Analysis tool is of particular interest. It lets you compare the website traffic and keyword performance of publishers' sites. You can even use it to find similar sites you may not have ever considered but that are a perfect fit for your client.
Canadian media planners, this one's for you. The IAB has put together a detailed list of media properties in Canada sorted by vertical, buying criteria (for example if they accept 3rd party tags) and advertising capabilities. While highly visual, the guide includes publisher logos which you can click on to be redirected to their individual sites or connected with a sales rep.