by
Pressboard has developed a self-serve version of its leading platform for buying sponsored content, allowing brands to easily place their content on top media publications
After over three years of operation as a managed service, we're thrilled to announce the launch of our self-serve sponsored content platform! By eliminating the labor-intensive processes that are used to create sponsored content, the new platform enables advertisers to place their content on the world's most influential media publications within minutes.
70% of consumers want to learn about products through content, so we started the company in 2014 to help brand's share their story through content. Since then, we've been busy building, utilizing and improving our platform in-house to manage sponsored content campaigns on behalf of over 200 brands like Ford, Chase, Spotify, Mastercard and General Mills. Today, we're thrilled to hand the platform over to marketers everywhere and enable brands of all types and sizes to tell their story with ease!se
The new self-serve platform allows advertisers to natively place their own content on any publisher among the growing list of media companies that accept sponsored content from brands. Publishers in the platform today include Vox Media, Apartment Therapy, Kitchn, Entrepreneur and more – with new publishers joining the platform every day! If you're an advertiser or publisher that's interested in using the platform to buy or sell sponsored content, you can sign up for a free account here.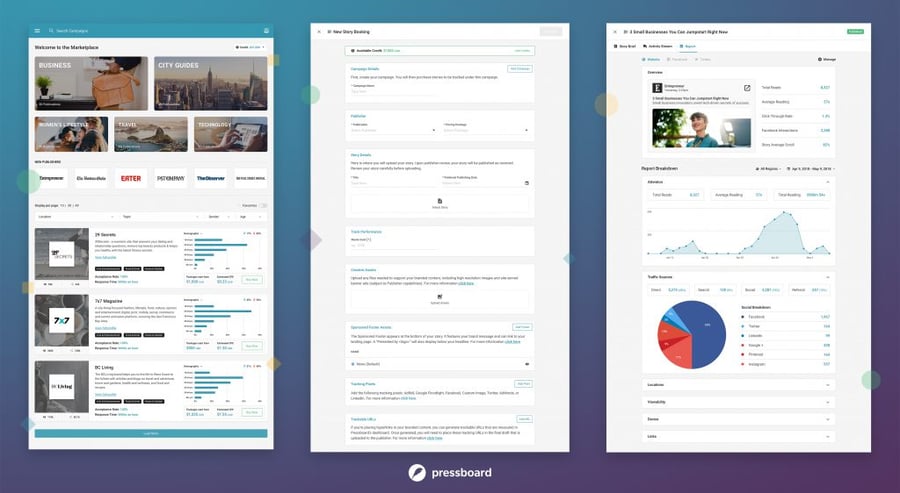 Using Pressboard, advertisers can now place their content on premium publications of their choosing, allowing them to drive brand awareness among targeted audiences. With the growing concern over brand safety on native programmatic platforms – demonstrated by Procter & Gamble's decision last year to pull $140M of programmatic ad spending – advertisers using Pressboard can rest assured knowing that their brand only appears on publications they choose to work with.
We believe that the advertising industry's growing concerns over brand safety are valid, so we built Pressboard to give marketers the assurance and control they've been seeking from digital platforms. Pressboard continuously verifies every publisher's audience, has transparent pricing, and a full suite of analytics that enables you to measure and optimize your sponsored content in real time.
No marketer wants to spend money on ads or content only to find out that it was placed next to something unsavory. Our platform's Marketplace contains a hand-picked mix of North America's most trusted media publishers to ensure that your brand's reputation is protected online.
Fully Featured and Free to Use
Full Access to our Marketplace – Easily search for publishers to work with and view verified audience demographics, social followings and pricing packages.
No Minimum Spends – Publish as few or as many pieces of sponsored content as needed. Pressboard is built for brands of all sizes and budgets.
Multi-User Access – Grant access to multiple users on your team to collaborate on buying content and viewing reports.
Third Party Tracking – Place third party ad tracking scripts for view-through conversion tracking and audience retargeting.
Ready to start driving brand awareness and acquisition through sponsored content? Create your free account by clicking the button below!
Thank you to all of our advertisers, publishers, supporters, and team for choosing to build something new and exciting with us!