by
"The NBA is probably the cultural center of gravity for young people in America, period," says Beckley Mason, Senior Director of Branded Content Production and Content Strategy at Bleacher Report.
Mason's quote is a nod to the fact that professional athletes have become some of popular culture's biggest influencers. Though celebrities have always been influential — persuading young people to dress like they dress, buy what they buy and consume the same media they consume — athletes have a particularly unique relationship with their audience.
Athlete influencers exude a down-to-earth, noncurated realness that breaks through the glossy, untouchable barriers put in place by things like social media posts and magazine spreads. They often have a wider reach than traditional influencers as well because they appeal not only to sports fans, but also to pop culture, travel, healthy eating and even fashion fanatics. This is because athletes represent a few key things that audiences are drawn to: hometown pride, the benefits of hard work and concrete proof that dreams can come true.
"Style Stories," a multi-part program that Bleacher Report ran with JCPenney, brought viewers into the lives of notable young athletes by tracing their development as people and fashion influencers in the lead-up to the NBA and NFL drafts. Creative wins included Marvin Bagley III's first-ever music video for his song, "Look At Me Now," and Jaren Jackson Jr's anime-style short depicting a playful reimagining of the draft.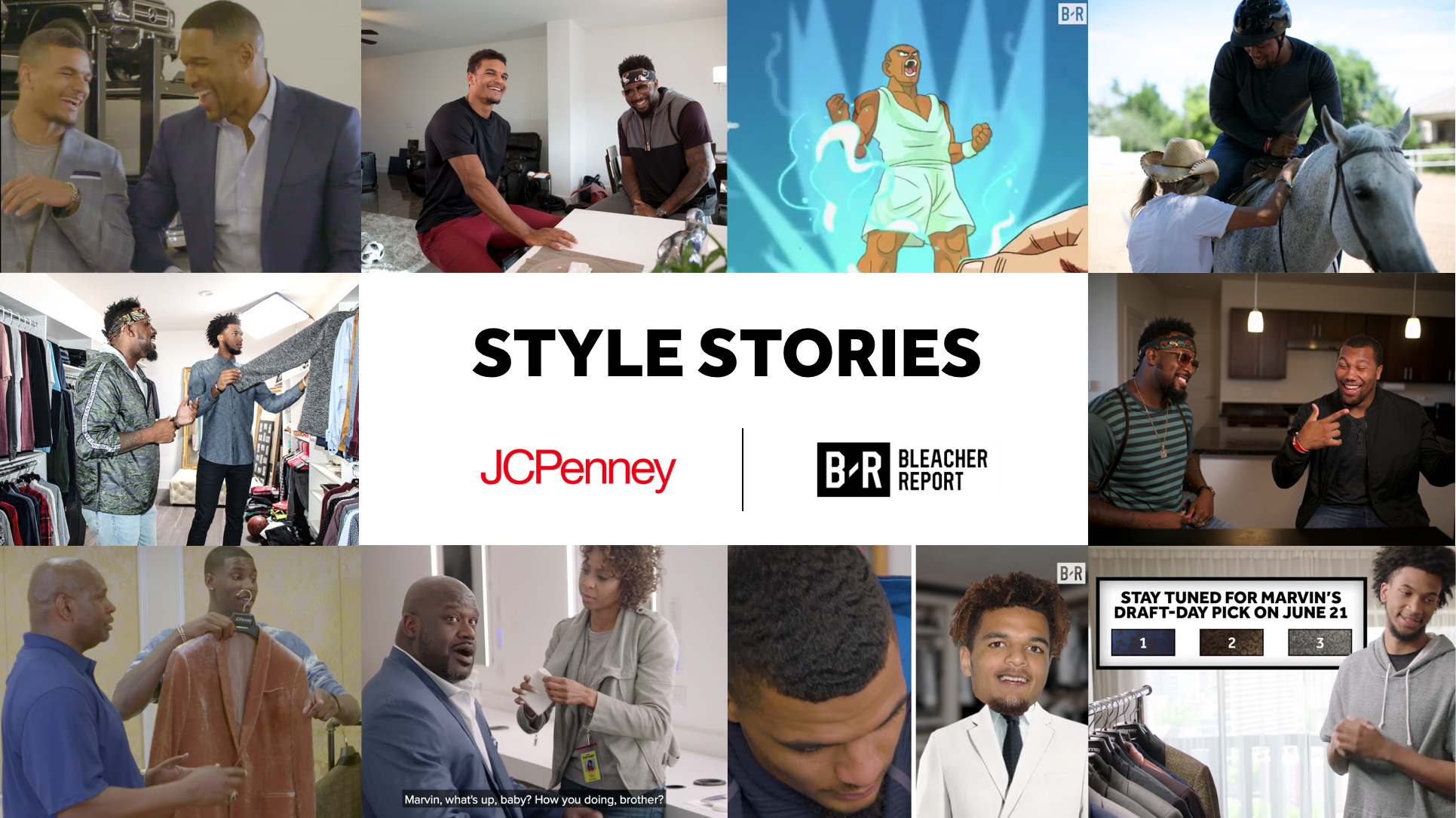 Bleacher Report allows members of its audience to contribute content, in addition to its staff writers, and offers followers a more varied perspective on the sports industry. This collaborative approach to sports reporting means Bleacher Report's audience has come to expect variety in its content and its content producers.
We spoke to Mason about the power of the sports community — both fans and athletes — as well as the intricacies of leveraging an athlete's personal expression and their connection to their followers.
Pressboard: Can you tell us a bit about Bleacher Report and how it started?
Beckley Mason: It's an open platform for people to write — people who don't have a community, really — and to find news and conversation about the teams that they care about.
Over time, it's evolved as technology and consumer habits have evolved. [The Bleacher Report team] has done a really nice job of being super aggressive, never being afraid to be the first mover to go all in on a new platform or a new consumer experience. They were the first to have a sports app that customized your experience against teams. They were the first to go all in on social as a way of not just getting people to click through to articles, but actually giving them a cool experience right in their social feed. We also have the institutional backing and rights to talk about the sports themselves, show the actual clips, the highlights, but [we] still maintain that sort of disruptive start-up perspective.
Tell us about the campaign that Bleacher Report ran with JCPenney.
Our audience loves athletes who express themselves. They love athletes who stand for something, who have passions off the court. That's why a jump shot from Joel Embiid means more than a jump shot from Tim Duncan (not because Duncan isn't a greater player, he's one of the greatest ever), but Embiid's off-court life gives everything he does more resonance on the court.
Obviously, fashion is one of the ways that you express yourself. So our idea [with the JCPenney campaign] was that we were going to use fashion and JCPenney products to allow these athletes to express themselves. We got a bunch of really talented guys – Jaren Jackson, Marvin Bagley III – who we were really thrilled to work with. I think one of the better things we did all year in 2018 was the music video with [Bagley]. He's just a really engaged, talented young guy.
At the end of the day, it's all about the talent in these situations and making sure the talent is engaged and excited, because that's going to come through in how the brand gets messaged. It's going to come through in our audience experience and it's going to make this [athlete] want to work with us again and want to continue to deepen their partnership with the brand.
Does a program like this give you a closer relationship with some of these athletes that you'll be covering for what could be the next decade?
There are many athletes who can't get a national Toyota deal, where they're going to get paid $3 million. And they don't want to do [the cheesy local ads]. And there's this massive middle ground, which is kind of where we are, where we can say, "It's a non-exclusive relationship. We're going to do something cool together." And the brand gets access to someone without having to sign an exclusive talent agreement that's massively expensive.
What do you think it is about sports culture that attracts so many people?
Well, certainly identity and community are core to the sports fan experience. But I think also the content we do is a reflection of where [sports and] all these other cultural interests intersect. It's really a melting pot of hot topics and interest throughout youth culture. So, I think that that's the approach we try to take. If you look at your feed, it's not a channel like ESPN where you're only getting sports. Your feed is a combination of all your different interests. And we want to reflect those interests in the sports content that we create.
Where do you see branded content fitting in in the grand scheme of publishing, whether that's with Bleacher Report or the industry as a whole?
You need to provide value to the audience in some way. It can't just be to tell them something. It has to show them something that they didn't know, a piece of information that they can use, an insight into an athlete's life that changes their perspective of them.
If Instagram ends up turning off the faucet the way that Facebook did with branded content, it's going to change the economics of the industry. And I think that at this point, if you aren't at significant scale and sort of have achieved escape philosophy on these social platforms, it's going to be really hard to build a branded content business once that screw gets tighter and tighter.
We always ask what someone's favorite book is. I'm going to narrow yours a bit just given your expertise in the sports world: Do you have a favorite sports book?
The Bill Bradley book that was written by John McPhee, called A Sense of Where You Are, is really fascinating. It's about his time at Princeton as a player, and then growing into politics. The idea which attracted me as a high school basketball player was his sense of where to be on the court and how to move and how to take advantage of maybe not being the most athletic guy, but knowing how to move, where to be and how to get there first was a metaphor for how he moved through is career.