by
At Pressboard, we're invested in growing the sponsored content industry. Whether that involves connecting advertisers and publishers through our own platform or celebrating the incredible work of our peers, we're dedicated to building up the industry as a whole. That's why I write about my favorite sponsored content examples every month. It's hard to believe the first month of 2018 has already rushed by, but in that post-holiday blur, these 10 incredible sponsored content examples that publishers and advertisers created together stood out.
(You can check out the best sponsored content examples from past months here.)
The last time we naturally associated rum and snow, it was likely around the neck of a St. Bernard. Mount Gay Rum is seeking to change that. By aligning themselves with an upscale, sophisticated activity like après ski, they're positioning themselves as more than just a tropical addition to a fruity summer punch. This collection of content was teased out over the winter ski season and is a natural fit for UrbanDaddy, a digital men's magazine that centres around food, drink, culture and style. This isn't the first time these companies have worked together—a sure sign that they've found a true alignment between brand and publisher.
Slate's Daily Feed is a fast-paced, news-centric podcast that touches on everything from politics and science to sports and culture. In this sponsored episode, the producers visited the Joe Yeung Farm in Sacramento, California to learn how the farmers are experimenting to overcome agricultural challenges and produce the high-quality ingredients that go into brands like Campbell's Soup. Campbell's is undeniably a household name, but known primarily for its comfort and simplicity. This piece shows that they're also thinking about important issues within their industry and our society.
Targeting career-driven women, MyDomaine features lifestyle content and career advice paired with lush, stylized images. Their collaboration with John Hardy's luxe jewellery line feels completely organic within their regular content. John Hardy aligns itself with creative, driven career professionals who are helping to shape the world of style and design, just as they did with their recent "Made from Legends" campaign, resulting in a piece that's as inspirational as it is aspirational.
The Smithsonian's online readership is educated and scientific-minded, making them an ideal audience for an article about the UAE's forward-looking energy strategy. By focusing the sponsored content on one main project, they're able to describe a complex topic in a relatable and interesting way, as well as spark curiosity for those interested in renewable energy. The unique, modern and architectural visuals help to support a topic that could have easily become overwhelmed by text heavy academic language.
Cyberbullying is a major topic of conversation as we move to an increasingly connected society. TELUS and WE Day collaborated to launch a series of digital tools for parents, educators and children to help navigate the tricky subject. To promote the site, they partnered with a variety of publications, using different angles to promote their message. For some of the sponsored content, they asked established local bloggers to share their experiences with cyberbullying in a relatable, authentic way. For parent-focused publications, they utilized downloadable tools to help parents educate their kids on how to diffuse these situations. In turn, both TELUS and their partner publications are able to align their brands with a positive message for youth and bring awareness to the WE Day campaign.
(Disclosure: Sponsored content for this campaign was purchased through Pressboard's platform)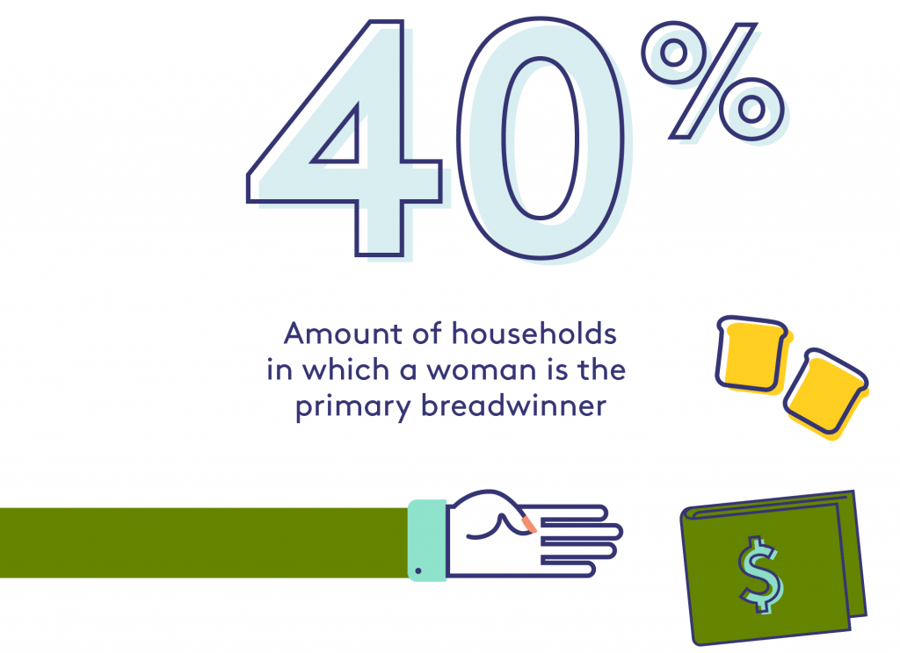 What does the typical modern family look like in North America? Today, there's no longer such thing as "normal", and that's something I wholeheartedly endorse. So naturally this piece between Refinery29 and Chase caught my eye. Relying on infographics of recent research about female breadwinners, working moms and the impact of income on families, this piece gave a glimpse into just how many ways there are to make family, and money, work. As many industries are currently being shaken up by the power dynamics and pay inconsistencies between men and women, these issues are top-of-mind, and Chase is capitalizing on a perfect opportunity to show support for female breadwinners.
The era of traditional recruiters is dying out, and social recruiting and employer branding are taking its place. Grads of Life is a unique organization that helps equip employers with the tools and resources they need to begin developing their own opportunity pipeline, and also helps them discover Gen Z standout graduates. The content they collaborated on with Forbes is both meaningful to young graduates and employers, managing to hit both of their target audiences at once.
This simple article hits all the benchmarks of a solid sponsored campaign: it's relevant to their female readership, it's interesting content, and it's very timely. Kicking off in January, L'Oreal was able to hit three holidays in one—the tail end of New Year's resolutions, the kickoff of Chinese New Year, and the time of year when women might be beginning to think about Valentine's Day. The recommendations for different hair types is specific and informative, and showcases how L'Oreal is refocusing their brand efforts to capture a more health-conscious market.
Speaking of New Year's resolutions, there's nothing more well-timed for January than a health food campaign. MaraNatha Foods partnered with PureWow to share paleo-friendly recipes with their on-trend, health-focused audience. MaraNatha presented five simple recipes centred around the celebrity-endorsed diet, all paired with highly shareable visuals that break down the elements of each recipe. Speaking on behalf of everyone who wants to eat better but struggles with snacking, these healthy snacks look pretty delicious!
In partnership with Narcity Canada, St Lawrence Parks created created bilingual content to drive readers to book tickets to the Lumina Borealis exhibit in Kingston, Ontario. The image-centric posts relied heavily on user-generated images, which is a good strategy for sites that have a good relationship with their social audience. Because the articles are so visually appealing, even those who couldn't attend the event would want to keep scrolling through the photos. Both articles have so far earned double the expected amount of reads and over 4,500 social engagements!
(Disclosure: Sponsored content for this campaign was purchased through Pressboard's platform)