by
As another year draws to a close, we're taking a moment to reflect on all the incredible content created by advertisers and publishers. Branded content partnerships are unique in that they allow both parties to look at a topic through a new lens; and with 86% of brands now employing content marketing, it seems everyone is striving to craft these inspirational stories. Though competition was stiff, here are the 50 best branded content partnerships of 2018.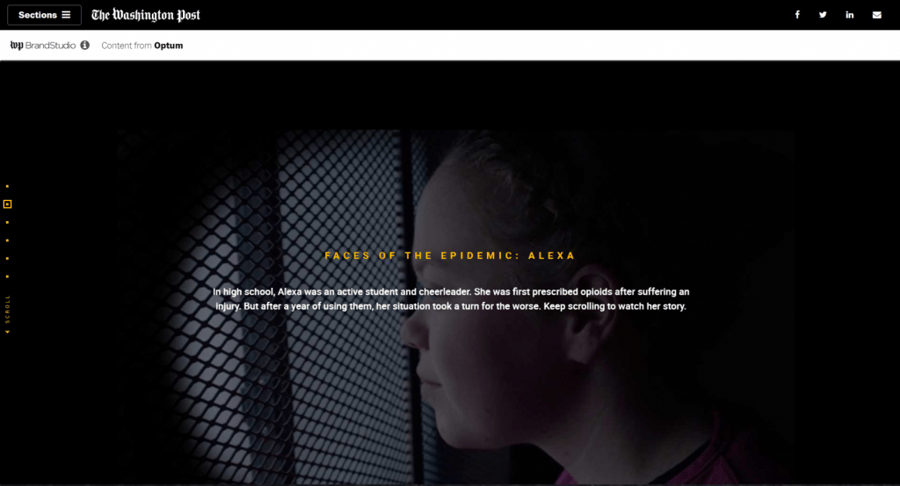 The team at Washington Post's WP BrandStudio is known for their data-driven journalism, making them the perfect partner for Optum, a pioneer in the opioid prevention, treatment and recovery services space. This exploration of the nation's opioid crisis goes far beyond statistics to tell personal stories of the people affected by the epidemic. Created through a blend of on-the-ground reporting, video, photography, interactive infographics and animations, the piece is an example of brand journalism at its best.
What would Tom Clancy's fictional hero, Jack Ryan, be like if you could meet him in person? He'd probably be a combination of former CIA Operative, Nic McKinley, and former CIA Analyst, Aki Peritz. This partnership between VICE and Amazon Prime explores this meeting of fact and fiction through documentary-style videos in which McKinley and Peritz share thrilling stories from their time working for the CIA. The compelling narrative quality of these videos make them a great fit for VICE's audience in addition to doing a fantastic job of promoting Amazon's new Jack Ryan series.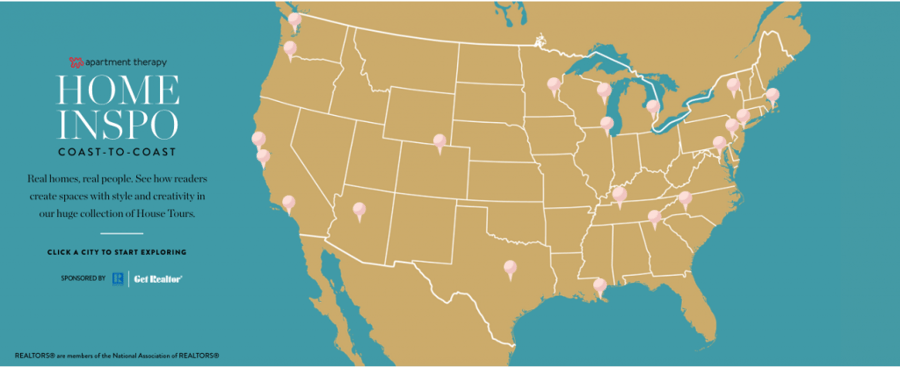 Buying a home is stressful — looking at gorgeous photos of impeccably styled homes isn't. Apartment Therapy and the National Association of Realtors (NAR) brought these two concepts together in their latest partnership, which shows readers how realtors helped people across the country through the home-buying process. While the content is filled with all the style and whimsy AT's House Tours are known for, it also features stats that prospective home buyers would find useful, like median home price and cost of living index.
This collaboration between Variety and Easterseals offers tangible advice to casting directors, writers, studios and more, and provides illuminating research on just how underrepresented people with disabilities are in the entertainment industry. This hard-hitting and important piece of branded content is a natural fit for Variety and a great extension of Easterseals' mission. It also marks Variety's first 16-page print advertorial and the first time that the publisher hired freelancers with disabilities.
UPROXX's mission with this campaign, which began in the second quarter of 2018 and was evolved and built upon in the fourth, was to make Intel synonymous with creativity. In addition to hosting CRE8CON, a live event for creators of all stripes, the team created 10 hero pieces of content, including a live action animated horror short that was projected on to the side of nine-story building with a live actor, a live music score and an unsuspecting audience. Considering everything in the campaign was created using computers loaded with Intel's Optane Memory, this is a clever way to showcase the versatility and creative power of the advertiser's technology.
This five-part video series from Great Big Story's content studio, Courageous and Coors Light follows photographers and artists up mountains and down the Pacific Coast as they try to capture what makes North America's wilderness so beautiful. These videos do a fantastic job of uniting publisher and brand in supporting the value of artistic expression. The connection to Coors Light's tagline, "Born in the Rockies," is subtle yet effective, and the first installment drew in over 2.5 million video views and 28,000 engagements.
Getting married, setting up house, having a baby — while exciting, these important life stages also come with a whole host of financial headaches. To help readers navigate these important milestones, Ally Bank partnered with The Studio @ XO to produce 21 content pieces published across their three sites: The Bump, The Nest and The Knot. The conversational content offered advice related to new challenges that each life stage presents, positioning Ally as a supportive financial partner for readers.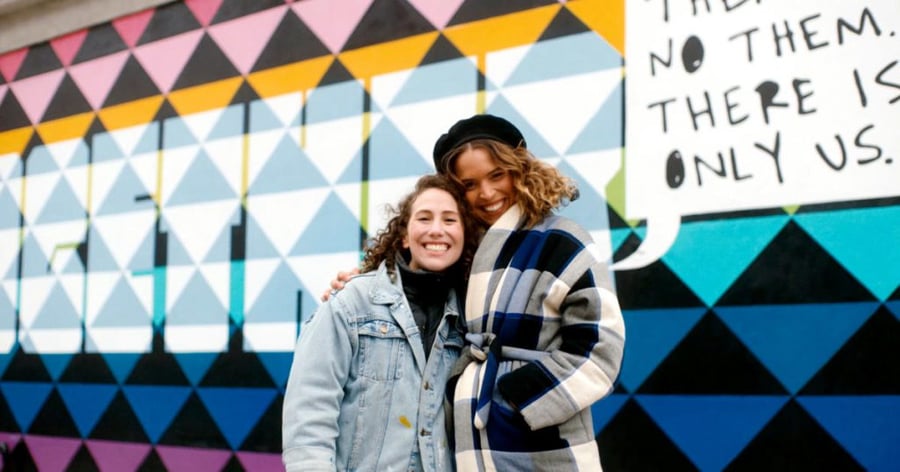 Working with Initiative, Destination Canada and The New Yorker's TNY Studio took to the streets of Toronto in this poetry-meets–street-art collaboration between acclaimed poet Cleo Wade and visual artist Bareket Kezwer. Rather than the typical "what to do and where to go" travel content, the video aims to create an emotional connection with viewers by showing them new ways of looking at Canada's most populated city. The video ends with a stunning mosaic that combines Wade's words and Bareket's art.
Did you know that only 16% of Wikipedia's editors are women? This collaboration between NowThis and American Woman sought to change this by hosting a female-focused Edit-a-Thon at which a diverse group of women were invited to insert female voices into the platform. The event also acted as a promotion for the Paramount show, American Woman, as it invited members of the cast to participate and share their insights.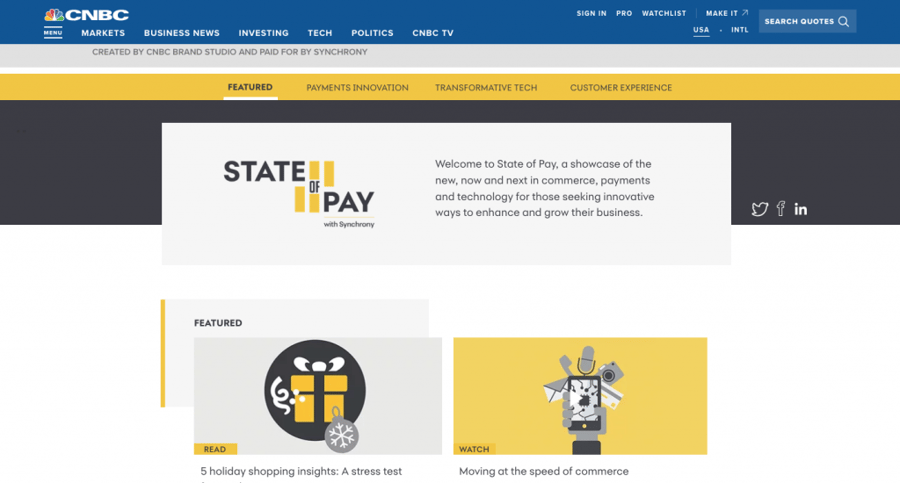 More than just a content campaign, CNBC Brand Studio and Synchrony Financials' State of Pay collaboration was about building an authoritative financial news franchise. Their teams created a series of 35 content pieces that offered advice to CNBC's sophisticated audience. They began by interviewing thought leaders in the retail commerce space, then took that content and transformed it into videos, podcasts, feature stories and articles. This is a great example of how you can use a tentpole event (like a conference) to create a cohesive, extensive content campaign.
This program brought viewers into the lives of notable young athletes, tracing their development as people and fashion influencers in the lead up to the NBA and NFL drafts. It was creative pieces like Marvin Bagley III's first-ever music video and Jaren Jackson Jr's anime-style short that were the real slam-dunk. Bleacher Report dominates the intersection of sports and culture, making them the perfect partner for JCPenney, who wanted to show the world how these athletes express themselves through their passion and style.
This campaign from Fatherly and Chrysler Pacifica takes an out-of-the-box approach to the family car. Considering Fatherly's primary audience (fathers, of course!) and Chrysler's primary objective of keeping its customers out of harm's way, this topic is an obvious winner. But what makes it truly impressive is its scope, as the campaign is made up of over 50 articles and videos that offer advice and insight for fathers that goes well beyond just the purchase of a vehicle.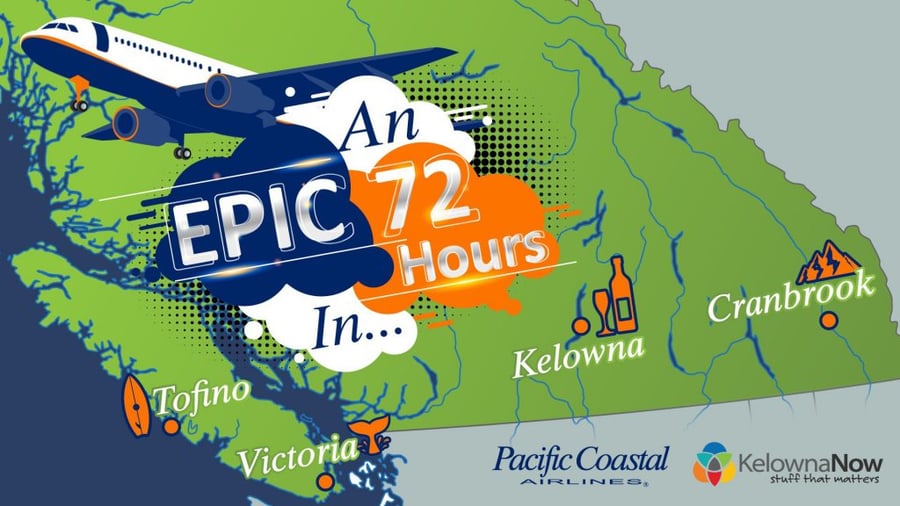 What should you do if you only have 72 hours to spend in British Columbia's most unique destinations? KelownaNow has the answer. Working with Pacific Coastal Airlines, the publisher created detailed itineraries for six cities that the airline serves. As a hyper-local publication that prides itself on its gorgeous imagery, KelownaNow was able to create relatable, engaging travel guides that encouraged their readers to book weekend trips that are just a short flight away.
This partnership between Atlas Obscura and Chase Sapphire is the closest you can get to stepping inside a time machine. The pair took over a vintage New York City subway train for a little over an hour, carrying guests (all Chase cardmembers) on a journey through historic New York. Live performers filled each car with music, lights and costumes, including a '40s swing band and an '80s vogue dance performance. More a theatrical performance than a piece of sponsored content, this collaboration is unique because it establishes an entirely new frontier for the industry.
This is a great example of the power of using celebrity influencers in branded content. Stranger Things' David Harbour brings his love of the God of War franchise to this video, in which he plays through the newest game alongside Gamespot's Lucy James and Sony's Cory Barlog. Seeing as he stars in one of Netflix's most binged series, Harbour is the perfect choice to both draw in viewers who may not necessarily be fans of God of War and enhance the experience for those who already are.
A multi-part video series created by Broadly and Vans, this collaboration seeks to shine a light on the women making a name for themselves in the world of skateboarding. From filmmakers to skate icons, the women in these videos are trailblazers in what's traditionally seen as a male-dominated sport. Broadly crafts inspiring content that speaks directly to their largely female audience, and Vans reaches out to their female customers.
i-D has always championed originality, authenticity and creativity in emerging talent, so the opportunity to show how Aaliyah's legacy lives on today with the Haughton family and MAC Cosmetics was a match made in heaven. The teams decided to reimagine i-D's A-Z in a format fit for Aaliyah — not bound by the confines of conventional language, but through a deconstructed narrative of her persona, artistry and legacy. The film's 26 vignettes weave together a cast of fans, collaborators (you'll spot familiar faces like Missy Elliott and Timbaland) and talent who continue to be inspired by Aaliyah's influence.
Want to start cooking with in-season produce, but have no idea where to begin? This collaboration between Kitchn and Walmart aims to change that with a comprehensive guide to common fruits and vegetables, including when they're in season, how to store them and what to make with them. With its bright imagery and simple format, this article is a helpful and easy-to-use solution to a common problem.
More than a brand partnership, this campaign was a collaboration between Ben & Jerry's Canada, Wattpad and the publisher's 70M+ readers and writers. To increase brand sentiment and awareness of Ben & Jerry's involvement in the LGBTQ+ community, the brand worked with Wattpad to host the site's first-ever branded write-a-thon, titled "Pen Your Pride." Writers reflected on the times when they felt proud to be a member of the LGBTQ+ community and submitted their stories, real or fiction, during Pride month. The campaign was a huge hit and received the highest number of submissions ever in a branded campaign on Wattpad!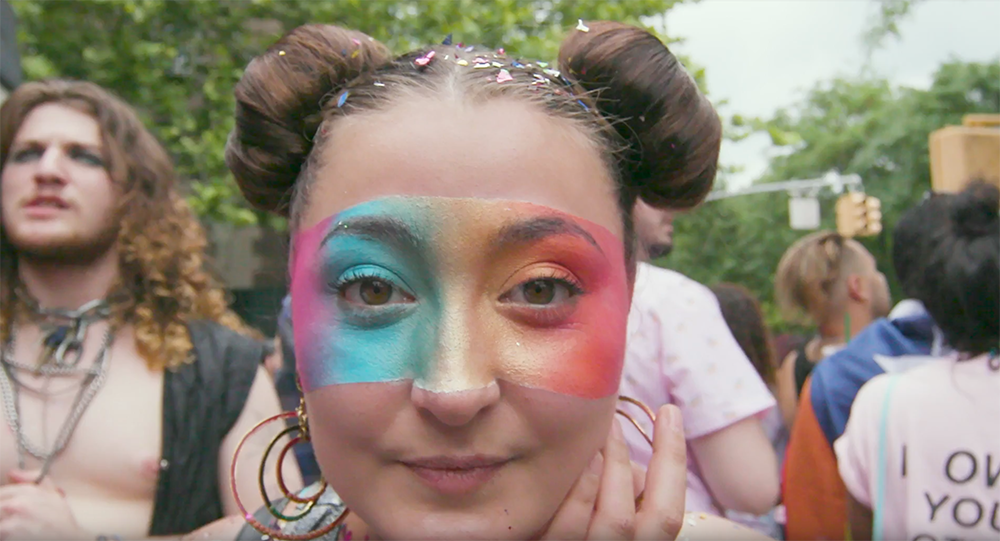 Dove has long been a leader in the branded content space, and this project with Mic continues that legacy. The company believes that beauty should be for everyone, and this emotional content furthered that message by exploring how breast cancer survivors are challenging narrow beauty stereotypes. Mic created an agile newsroom guided by journalistic principles to create the content, giving the campaign an especially editorial feel. It's a wonderful example of what traditional storytelling can do when supported by a brand's unique mission.
It's often necessary to think outside the box in order to make a strong statement, and this partnership between CNN and Hulu does just that. Created to promote Hulu's series, The Looming Tower, this living piece of content offers readers a wealth of information on the Iraq war, from the lead-up to the aftermath. The number of resources packed into this article is staggering, from videos and images to illustrations that come to life as you scroll. Sophisticated and heavily researched, this collaboration shows both CNN's editorial prowess and Hulu's investment in creating a show that's hard-hitting and factually accurate.
The Knot and Olay put a spin on the traditional "before and after" beauty content by taking brides-to-be on an epic skincare adventure. The destination? The top of a glacier in Iceland, where they participated in a stunning photoshoot. Each woman documented the month leading up to the trip, when they were challenged to use Olay skincare products to prepare for the shoot. Since The Knot reaches 8 out of 10 brides, the site was an excellent partner for Olay, who wanted to reach newly engaged women and support them as they began planning their weddings.
Through this program, Blue Apron was looking to help New Yorkers reset their routines at the start of fall after the craziness and unpredictability of summer. And who better to create a campaign around reviving your routine than Gothamist, who experienced their own comeback earlier this year? The hyperlocal site channeled their revived creative energy into this colorful content that recommended easy meals for New Yorkers on the go.
Approaching its centennial anniversary, TIAA tasked their IPG agency partners (Weber Shandwick, UM Worldwide and The Martin Agency) to drive awareness and engagement among target nonprofit consumers. Their strategy was to not only celebrate their own important milestone, but the incredible people who TIAA serves. The TIAA Difference Maker 100 recognized 100 people working in the nonprofit sector with grants in their name of $10,000 each to the nonprofits they support. This multifaceted campaign saw the teams create a co-branded editorial hub on Huffington Post as well as native content that highlighted individual honorees.
Travel content is often framed around inspiring the reader to travel in order to experience unique destinations for themselves. This partnership between the Matador Network and Lufthansa focuses instead on the internal journey that happens within the traveler as they move through the world, encouraging them to "say yes" to new opportunities. A video series comprised of stunning shots of cities, bustling markets and wide-open vistas, this collaboration aligns open-mindedness with travel in a way that makes the viewer want to book a trip immediately after seeing it.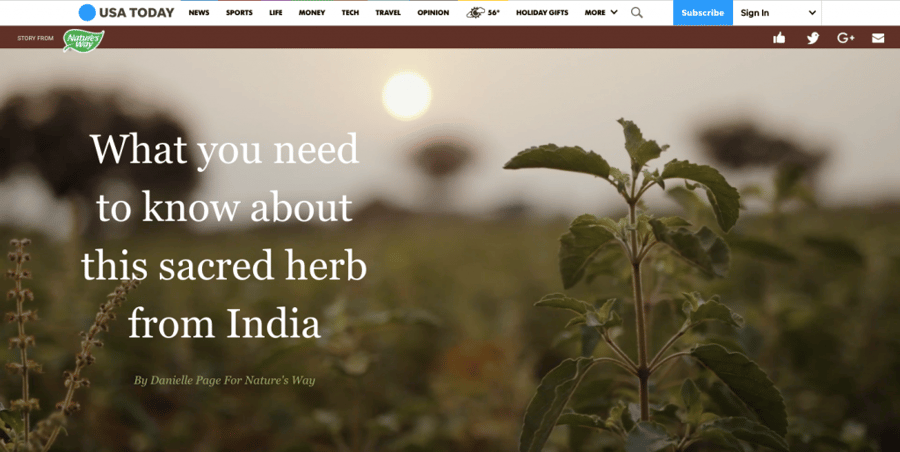 An enormous effort on behalf of USA Today, Spark Foundry and Nature's Way, this collection of videos and articles outlines some of the world's most precious food items, including turmeric, holy basil and elderberry. Each piece highlights where the ingredient is sourced from, how it's harvested and the significance behind it. This collaboration encourages the audience to think about where their food comes from and consider the real people who grow and harvest it — a thoughtful, newsy topic that's ideal for USA Today.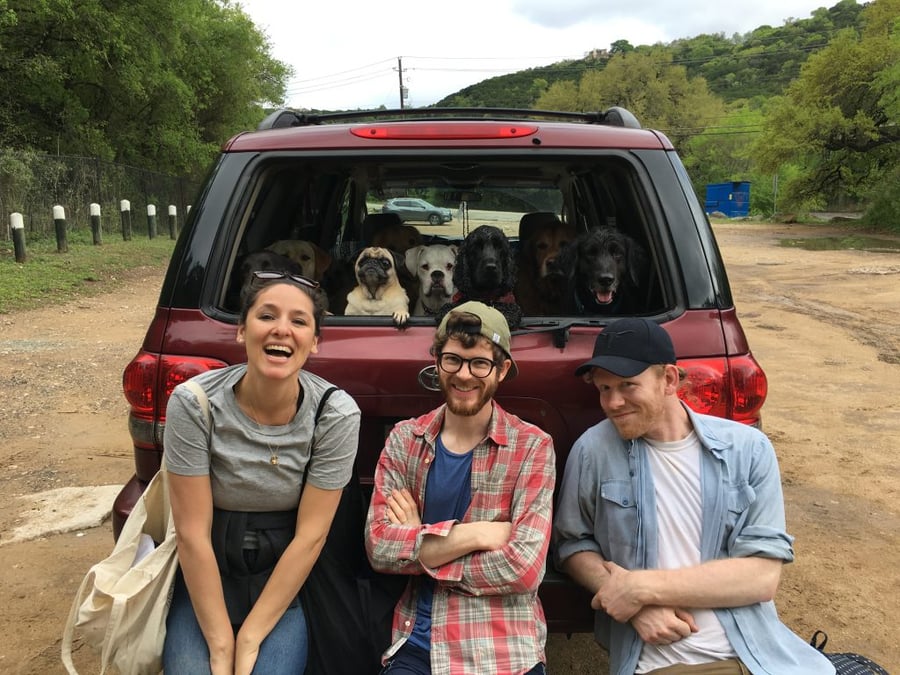 To promote the Samsung Galaxy S9's super slo-mo feature, this video series captures the most photogenic creatures of all: our beloved pets. From cats on hiking trips to dogs at the spa, this series profits from the (very true) belief that audiences love content featuring animals. The highly shareable nature of this collaboration is hugely beneficial for The Dodo, while Samsung gets to flaunt their camera technology with the cutest models imaginable.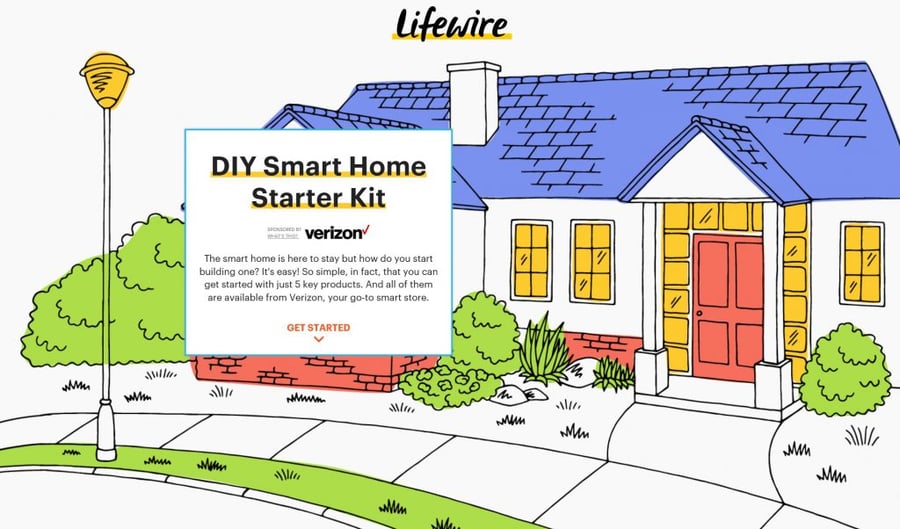 This clever partnership between Lifewire and Verizon takes the reader through the process of setting up a smart home, including what products to buy and what rooms to put them in. Simple yet effective, this article has a colorful, shoppable format that gives the reader bite-sized pieces of advice that they can immediately take away with them. Lifewire is all about demystifying tech for their readers, making this a natural fit for the site.
Rapper and sports super fan, Wale, gives back to his hometown in this collaboration between Revolt and Under Armour. This is a partnership that emphasizes the power of celebrity influencers, especially those supporting a cause. Bringing together Revolt's expertise in Hip-Hop culture and Under Armour's new HOVR running shoe, this program is a great way to promote a healthy, active lifestyle through community engagement.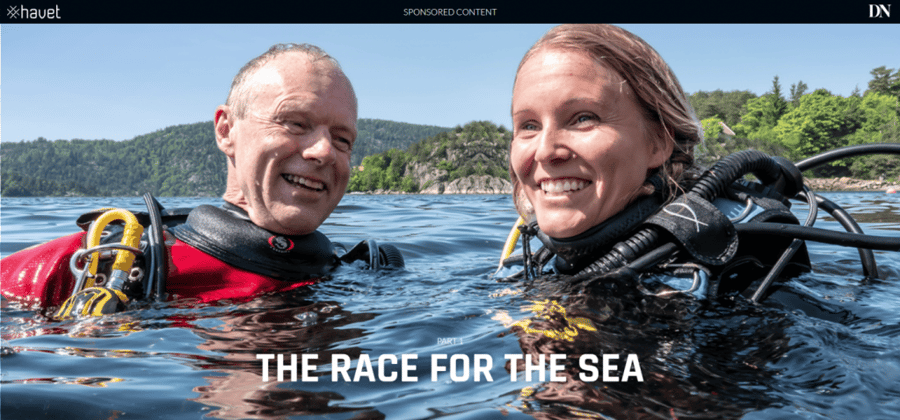 The immense collaboration required to bring this campaign to life reflects the program's core message: we must work together and across all sectors to bring meaningful change to our oceans. "The Ocean" saw the Norwegian Business Daily, in collaboration with major business partners, discuss this trending topic from a new angle. It's not just about saving the ocean, but exploring how businesses and society can use it responsibly to develop new technological and financial solutions.
The Smithsonian's online readership is educated and scientific-minded, making them the ideal audience for an article about the UAE's forward-looking energy strategy. By focusing the sponsored content on one main project, they're able to describe a complex topic in a relatable and interesting way, as well as spark curiosity for those interested in renewable energy. The unique, modern and architectural visuals help to support a topic that could have easily become overwhelmed by text-heavy academic language.
With content spanning Business Journals' wide publisher network, this collaboration with BBVA Compass was an impressive undertaking. It was even recognized with the "Best Native Advertising Strategy" award at the 2018 Native Advertising Awards. The campaign was part of BBVA Compass' larger campaign, "Creating Opportunities," through which the bank hoped to open doors in the communities they serve for the people who need it most. By leveraging the regional publishers in BizJournal's network, BBVA was able to speak to communities directly and offer tailored financial guidance and support.
When you think of America's Navy, do you picture blues guitarists, tattoo sleeves and video game technology? Probably not. That's why the goal of this national campaign, which placed content on publishers such as Complex, Elite Daily and Revolt, was geared towards showing readers another, lesser-known side of the Navy. Though each article provides information about the career options and opportunities for creativity in the Navy, the Complex article in particular — with its focus on the significance of naval tattoos — is a colorful, culture-packed piece that tells an engaging and accessible story about Navy history.
(Disclosure: this content was published through Pressboard's platform)
This collaboration artfully combines breathtaking photos by National Geographic with the adventurous spirit of BMW to create a video that's both powerful and relatable. The defining feature of National Geographic is its mind-blowing photography, so taking the viewer behind the scenes of how these shots are taken is the perfect way to frame a sponsored content piece about a human-interest story — such as the life of the ranching family portrayed in this video. The narration further enhances its relatability and gives it a human quality that's especially effective.
New York City is undeniably one of the most notable places a person can call home. The state of New York is peppered with many other vibrant and up-and-coming communities, however, such as the East Coast city of Hudson. This video does a beautiful job of flaunting the stunning architecture and thriving arts scene of the Hudson Valley area while also highlighting it as a great area for prospective home owners. The collaboration between Tastemade and Zillow is mutually beneficial because Tastemade is interested in promoting foodie communities across the globe, and Zillow is a real estate company hoping to encourage people to settle in cities like Hudson.
This collaboration between WIRED and Hewlett-Packard promotes the non-profit organization, Black Girls CODE: an education initiative which has brought state-of-the-art technology to over 8,000 African American, Latina and Indigenous girls in the United States. The initiative began as a way to increase the percentage of female minorities working in industries like tech and programming, particularly in California's Silicon Valley. This branded article is a triumphant, no-nonsense look at the organization and how it seeks to empower young women. By aligning themselves with Black Girls CODE, WIRED and HP present themselves as inclusive and forward-thinking companies with a commitment to youth education.
This living piece of sponsored content is downright, well, bold. Using a mixture of videos and interactive illustrations, this vibrant collaboration connects the viewer with Instagram influencers from across all 50 U.S. states. Refinery29 publishes lifestyle content that speaks directly to young women, making them a great partner for Revlon. But this piece of content is about so much more than makeup — it's a reflection on self esteem, female empowerment and living in America. By creating such a thoughtful piece of content, Revlon establishes itself as a company whose concerns go much further than skin deep.
This piece sits down with some of the top soul food chefs in Atlanta and asks them about their culinary triumphs, their experience working in a kitchen and the ways that they express their culture through their dishes. As a publication that's primarily focused on culinary content, Thrillist is a natural choice for a piece that shares the stories of people working in the food industry. New Jersey-based beverage company, Bai, is well-positioned to thoughtfully reflect upon the cultural climate of food and drink in America. This article is an excellent example of how sponsored content isn't just limited to brand mentions, as its main interest lies in exploring how African-American chefs are "rewriting history's recipe books."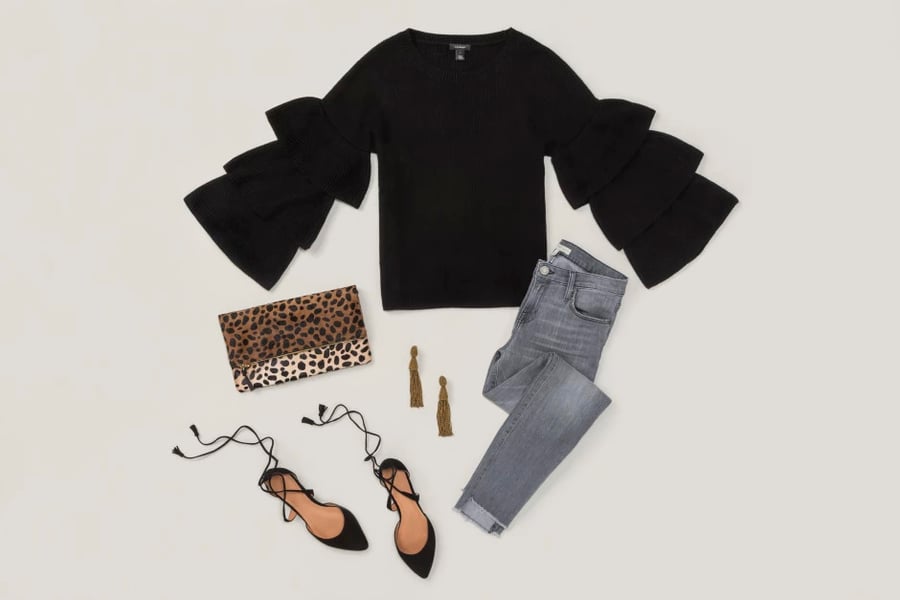 Sure, you've heard of pairing your meal with a glass of wine — but what about pairing your meal with your outfit? This sponsored content from Eater and Trunk Club takes a clever approach to dining out by suggesting looks for every type of restaurant, from the fast food joint around the corner to the fancy Italian place that you splurge on for special occasions. This is one of many pieces of content in a two-part, spring and fall campaign by Trunk Club focused on promoting their personal stylist services; the company also placed sponsored content on lifestyle publications such as Refinery29, PureWow and Well+Good, with the support of Pressboard. The effectiveness of the Eater article lies in the seamless blend of food and fashion content, as well as the artfully arranged flat-lay photos provided by the brand.
(Disclosure: This sponsored content was published through Pressboard's platform)
Good Looking Out is a branded web series created by Complex and SIMPLE Mobile that grants millennial entrepreneurs the opportunity to receive mentorship from people who are successful in their field. This well-produced series showcases young talent in everything from the culinary arts to fashion. By putting their name on this show, SIMPLE Mobile positions themselves as a company that's invested in the ideas and talents of their customers. Using a content outlet such as this also allows them to comment on issues that are close to their hearts, such as e-commerce and collaboration between independent companies and larger corporations.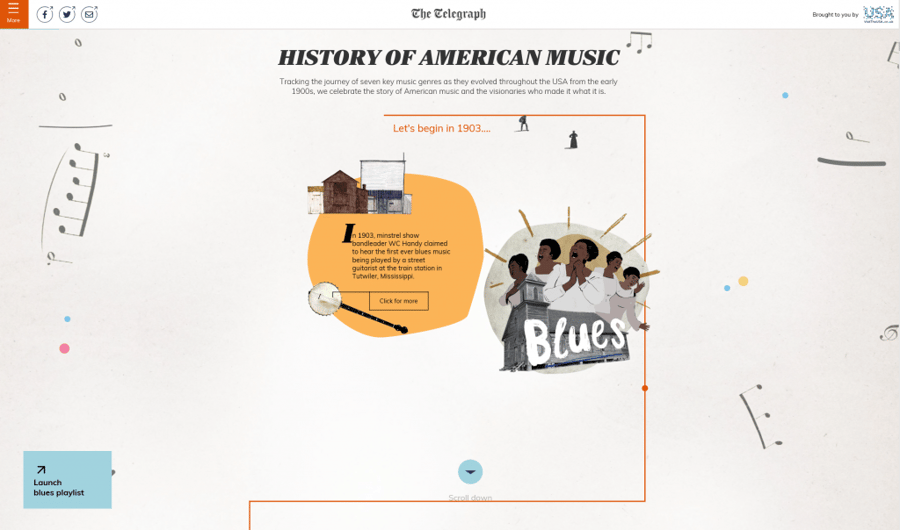 Another outstanding piece of travel content, this collaboration is a seven-genre-wide celebration of music in the United States. Using one aspect of a country's culture as a jumping-off point for an international travel campaign is a bold choice, but the finished product is undeniably stunning: a digital pop-up book with an intuitive reading feature that reveals more of the article with every scroll. The level of thought and care put into this piece by both The Telegraph and Visit the USA is incredible — they even made playlists for it! It's not often tempting to reread an article immediately after finishing it, but this charming sponsored content collaboration certainly deserves a second go-around.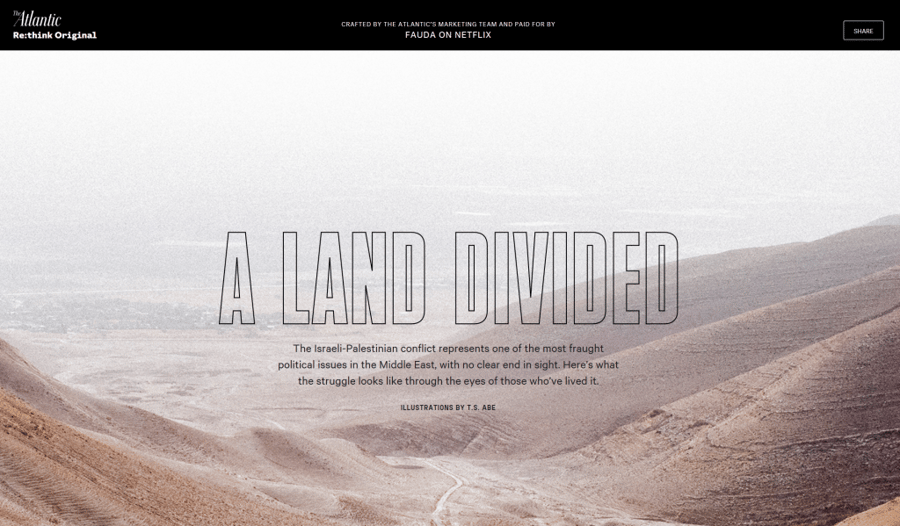 Considering the overwhelming success of their previous partnership with The New York Times, it comes as no surprise that Netflix would team up with another media giant to create hard-hitting sponsored content. Backed by years of experience and an iron-clad reputation, The Atlantic was the perfect publication for the company to align themselves with. But the sheer scope of this collaboration, which covers over 70 years of the Israeli-Palestinian conflict, couldn't be contained in a traditional article. That's why this piece uses an interactive content format comprised of traditional news snippets, timelines, maps, photos and first-hand accounts to give readers a comprehensive understanding of the topic.
If you miss the sponsorship disclosure at the beginning of this video, you might mistake it for an art film. Beautifully shot and acted, this collaboration between Harper's Bazaar, Esquire and The Ritz-Carlton Hotel de la Paix in Geneva captures the sophistication and intrigue of staying at a luxury hotel. This is the perfect piece of content for Esquire's refined audience, and the cleverest (and most romantic) way to advertise a hotel that we've ever seen.

This charming partnership between T Brand Studio and Vancouver's Fairmont Waterfront hotel is certainly worth buzzing about. From its gorgeous visuals to its informative text, this piece succeeds at both spreading the word about the endangered habitats of bees and promoting the Fairmont as a conscientious (and breathtaking) accommodation choice. Plus, the happy hotel bees produce over 200 pounds of honey annually that goes towards creating some of the delicious dishes on the Fairmont's ARC restaurant menu — a sweet fact which gives readers even more incentive to book their stay.
Another piece of great sponsored content from Food52, this fun and informative take on "the fifth taste" combines videos and cartoony illustrations to create a piece of food content that's a delight to interact with. Their team pairs up with Ajinomoto Co., a Japanese food corporation, to tackle questions such as "what does umami actually taste like?" and "why did it take the world so long to catch onto it?", effectively positioning themselves as the go-to experts for all things taste bud–related.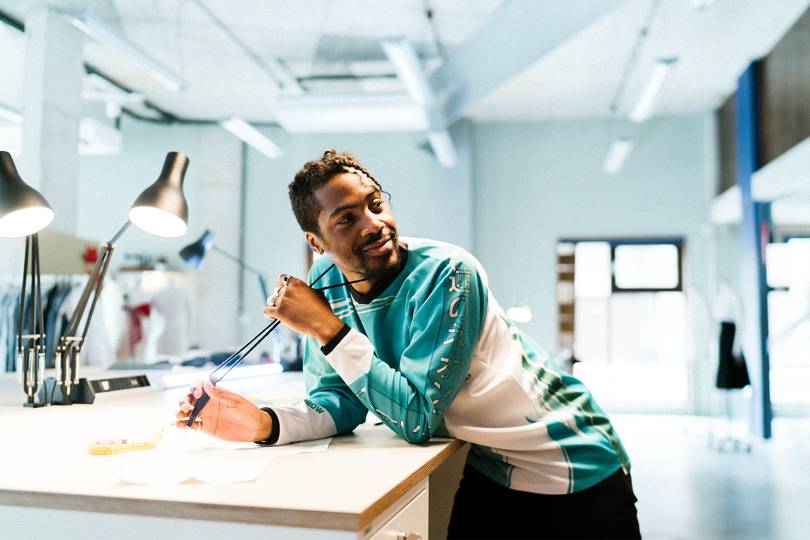 This stylish collaboration explores the relationship between streetwear and luxury wear in an attempt to understand how the former became the most talked-about branch of the fashion industry. The discussion of the evolution of menswear makes this a tailor-made fit for GQ, and the expertise of The House of Peroni, a leading London fashion studio, lets them speaks authoritatively to their sophisticated and style-savvy audience.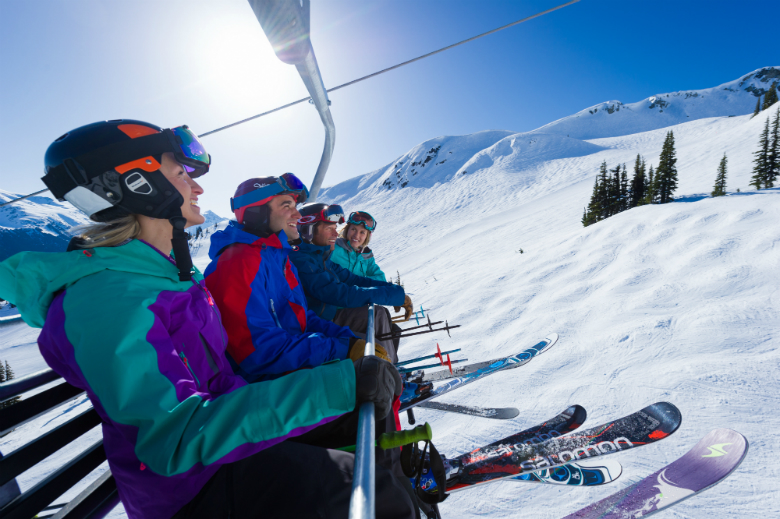 This campaign transported American readers to the slopes of Canada's most popular resorts with inspiring, targeted travel content. The partnership between the Canadian Ski Council (CSC) and sites like Thrillist, Powder Magazine and Boston Magazine was particularly effective because it used regional targeting to promote specific resorts located in close proximity to the readers. To help manage the many campaign stakeholders, OMD Vancouver, CSC's agency, partnered with Pressboard to help manage the approval process. Stories were written and published in a matter of weeks, while ensuring all partners' voices were heard.
(Disclosure: This sponsored content was published through Pressboard's platform)
Don't get us wrong: Buzzfeed makes great quizzes. But even if you go to their website just to figure out which dog or hamburger you are, you should stay for the longform content. This partnership with Keep America Beautiful is a great example of the kind of investigative work that the publisher is quickly becoming known for. The narrator takes the reader on a tour of a recycling plant in Brooklyn, NY, to help dispel some common myths about the process of recycling, such as "can you recycle something that still has food particles in it?" (the answer is yes, by the way). The first-person tone of the piece, combined with the oddly beautiful images of colorful recyclables, make for a thought-provoking and educational read.
The Economist and Siemens have teamed up to create this graphically gorgeous explanation of the relationship between data and football. There's really no better word to describe this piece than "wow." Using fans' voices in a stadium, it generates digital soundwaves to create a visible correlation between fan enthusiasm and team performance. A work of sponsored content that's driven by curiosity and a desire to better understand the world around us, this collaboration is a stand-out effort on behalf of both publisher and brand.
This comprehensive look at global currency exchange tells the stories of sustainable farmers, ecotourism company owners and more, shedding light on what it means to be an expat building a business abroad. OFX, the global money transfer company, demonstrates their value across a variety of industries, illustrating how secure money transfers impact the quality of life for business owners across the world. This sponsored content is packed with information, videos and opportunities to click through and learn more, making it a smart and sophisticated placement for a site like Forbes.